The Wulfson String Quartet is a string quartet from Gothenburg consisting of 4 professional musicians. The Wulfson Quartet members all have degrees and qualifications from music schools in Sweden and abroad. For more detalied information about each member, klick at the members name below.
The Wulfson String Quartet has worked with artists like: Jim Jidhed, Robert Wells, Björn Skifs, Sissel Kyrkjebö, Peter Jöback, Shirley Clamp, Geir Rönnäng, Pernilla Wahlgren, EMD, Claes Malmberg, Christer Sjögren, Anders Ekborg, Sharon Dyall, Glenn Hughes, Carola Häggkvist Charlotte Pirelli, Janne Shaffer, Paul Carack, La Gaylia Frasier, Peter Johansson, Robyn, Tommy Körberg, Jessica Andersson, Jill Johnson, Rallygänget, Povel Ramel, Galenskaparna just to name a few examples...
The Wulfson String Quartet has also participated in musical events such as: Melodifestivalen, Rhapsody in Rock, Faddergalan tillsammans med EMD, The Producers på Lorensbergsteatern Göteborg, Las Vegas Show Christer Sjögren Rondo Göteborg, Björn Skifs show Eriksbergshallen Göteborg, Rhapsody In Circus Rolambshovsparken Sthlm/Heden Gbg, P3GULD-galan, Storan Göteborg, Handfull of Christmas Hamburger Börs Sthlm, Bingollotto 10 år jubileumsgala Lisebergshallen Göteborg, Cabaret Cartwright med Galenskaparna och Anders Eriksson Lorensbergsteatern Göteborg, Global Spring Gala Beijing Kina, Black Mountain Golf Resort Tsunami Gala Hua Hin Thailand, Rhapsody in Rock Royal Albert Hall England.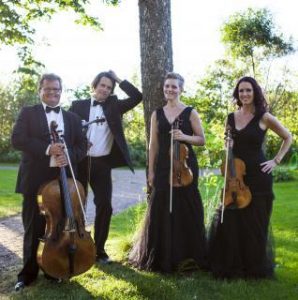 One of the The Wulfson String Quartets strengths is the broad variation of musical styles from symphonic orchestral, chamber music, studio and film recording both in Sweden and abroad. The Wulfson String Quartet also works with other instrumentalists and singers from both Sweden and abroad, so we can accomodate any personal requests using different ensembles amongst our network of musicians.
The Wulfson String Quartet offers a wide repertoire of music ranging from Bach to the Beatles. Email us to recieve our repertoire list and choose a piece to suit your particular occation. If you have a special request wich is not on the list we can try and get it written for String Quartet by one of our professional string arrangers. Two of them we work with are Tormod Tvete Vik and Karl-Johan Ankarblom. If you want to read more about them please go to their websites where you can learn more about their previous jobs, events and listen to audio files and order notes.
Sometimes it's hard to know if a song that is written for a different setting consisting of drums, bass, electric guitar and synthesizer is suitable for a String Quartet. We have years of experience in these types of questions and can give advice on what is possible to rearrange for various musical events. Email us and ask and we will gladly guide you in your musical selections and questions.
The Wulfson String Quartet takes part in opening ceremonies, church concerts, chamber music festivals, ceremonies, church services, weddings, baptisms, funerals, studio recordings, orchestral projects, opera performances, theatrical performances, musical performances, corporate events, various musical events and other festivities. Our ensemble can offer a tailor-made programme for your special occasion.
Of course we have, in The Wulfson String Quartet, the best job in the world and we are usually told that it shows that we love playing.
Do not hesitate to contact us if you need music for your particular event or occasion. On our website under the column contact, please fill out our booking form with programme suggestions or make a booking request for a certain date.This page is linked directly to our mailbox. If you want to make a reservation or have any questions, please email us in The Wulfson String Quartet: wulfsonquartet@outlook.com