Here you can read about the concert programs Wulfson String Quartet offers whether you want classical music, show, pop, film music, jazz or musical, we hope you´ll find your program. To read more about what each program includes scroll down this page.
---
Claes Gunnarsson & Wulfson Quartet: Vivaldi, The Four Seasons
In this program Wulfson Quartet accompany the solo cellist Claes Gunnarsson. It contains among other pieces Vivaldis 'Spring' and 'Summer' where Claes plays the violinpart on the cello! This is a wonderful opportunity to be able to enjoy this two remarkable pieces played on the cello accompanied by string quartet. Claes Gunnarssson is one of few cellists in the world that plays this.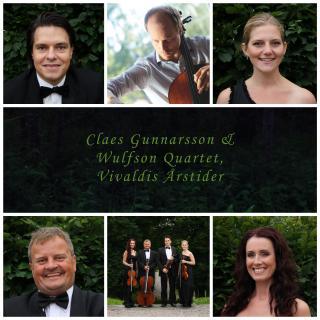 A. Borodin, No 2 i D-dur
In this concert program Wulfson Quartet plays Alexander Borodin String Quartet No. 2 in D-Major. Borodin wrote this string quartet as a wedding gift tohis wife in celebration of their 25:th wedding anniversary. This quartet is known to be very romantic and especially the slow movement 'Nocturne' is associated with love and often heard to be played seperatley because it is so beautiful. This program is an hour long and also contains other wonderful music written especially for string quartet.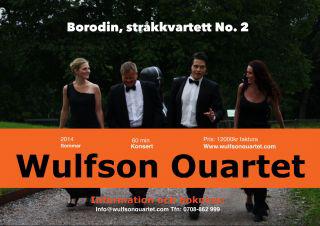 From Bach to the Beatles
In this concert program, we take the audience with us on a journey through many different musical genres. You will hear well-known songs from musicals like West Side Story mixed with pieces of music from Operas as La Bohème and Carmen. Wulfson String Quartet also offers songs of ABBA and the Beatles and some of the finest pieces written for string quartet by composers such as:
J. S Bach, P.I. Tchajkovskij, W.A. Mozart, J. Wikmanson S.B. Taube and many more.
The music mixed with speeches from the quartet members that provide interesting information and amusing anecdotes about the composers' lives, and more. This is one of our most popular programs and the majority of concert-attenders, both experienced and novice music lovers, enjoy the concert.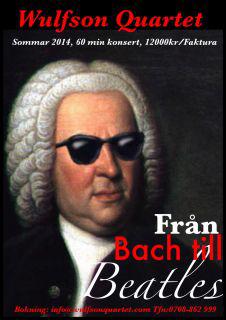 L. Beethoven No 1, Opus 18
In this concert program The Wulfson String Quartet audience Beethoven String Quartet No 1, Opus 18. This string quartet, Beethovens first of six full quartets, is filled with youthfull energy that is contagious and invites you to delightful sensations through melody movements. Beethoven´s second movement of this quartet is said to be inspired by the burial scene of Shakesspear´s "Romeo & Juliet". This quartet Beethoven wrote when he still had his hearing intact and was a man in his prime. Concert program is one hour long and also contains other nifty pieces written for string quartet.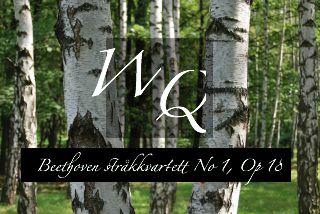 W. A. Mozart String Quartet No 15, KV 421
In this concert program invites Wulfson String Quartet on W.A. Mozart´s String Quartet No 15, KV 421. This string quartet, Mozart´s second string quartet, it´s dedicated to Haydn and the only quartet in a minor key of these. Mozart wrote this quartet when his wife was pregnant with their first child. It is said that the second movement is a portraying tears from his wife during labor. String Quartet No15 is a beautiful string quartet and quite easy to listen to, but this program will also appeal to the experienced concert visitor.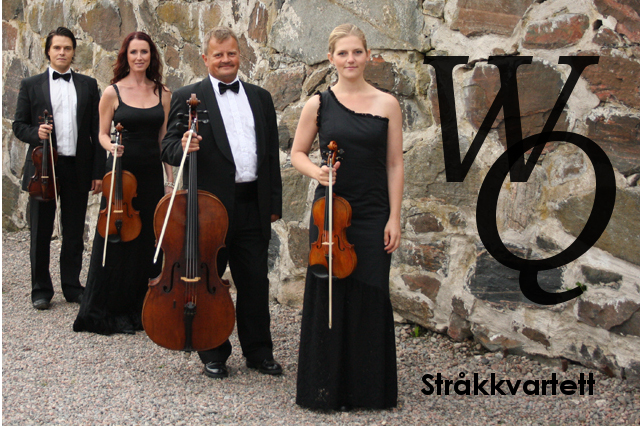 Movie Music
This program is made for you who love movies and want to enjoy a full program of film music from wellknown movies. Immortal songs from films like The Godfather, Romeo and Juliet, Pink Panther, Titanic, The Mission, Lord of the Rings, James Bond, La Bamba, West Side Story, A Star Is Born, Swedish Änglagård and Så som i himmelen, and many, many more mixed with anecdotes of filmmakers, actors and composers who all took part creating these great films.
So sit back, escape right into the film´s enchanted world through the music with echoes of the movie world.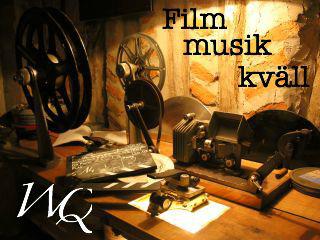 Nordic Sound
In art, we often talk about the Nordic light. In the world of music there is something you could call the Nordic sound that are the music's equivalent of the Nordic light. In the following programs: Nordic strains, the audience will enjoy the Nordic music at its best.
In this concert program Wulfson Quartet offers the audience a journey in the Nordic sound of the spheres. The program is full of famous composers such as Swedish LE. Larsson, L. Soderlund and these are combined with, among others. a. composers like J. Wikmanson, JH Roman and B Ulvaeus / B. Andersson. The quartet allows the audience to take note of J. Wikman's string quartet and invites ago on Pastoral Suite and the soundtrack to the Änglagård, among other things. This is a beautiful program that appeals to most, but also gives the experienced concert-attenders great benefit.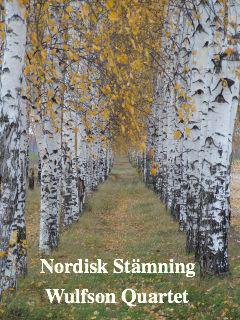 Wishes coming true
Whith "Wishes coming true" we want to offer the kind of music YOU want. This is the program for the one who is a concert organizer or for a special occasion you might want certain pieces put together into your own program. We perform music from a diversity of musical genres. Please contact us and make known your wishes and Wulfson String Quartet will make every effort to accommodate them as closely as possible. We work with talented arrangers who can arrange any music for us if necessary. Maybe you want to hire us in Wulfson String Quartet for a 50th birthday party and need a special song to surprise someone? Anything is possible!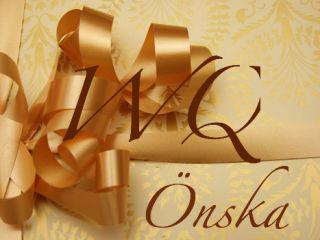 Stillness
In this concert program, the audience gets the opportunity to enjoy some of the most beautiful pieces that offers stillnes to the mind. Music that attracts reflection or just creates relaxation in body and soul. We are often asked to play music that creates calmness in this busy world with its increasing pace and this program is our answer to this. We have therefore chosen to call it "Stillness" as a symbolic name for a moment with a quiet mind.
Wulfson Quartet string quartet offers music as Bach's Air, One Hand One Heart from West Side Story, Samuel Barber's Adagio, Anthem from Chess, Love Theme from Nino Rotas Romeo and Juliet, theme from the Godfather, as well as more subtle statements from the classical genre. This is a program that is suitable for most music lovers and for the busy people of our time who needs a rest for a while.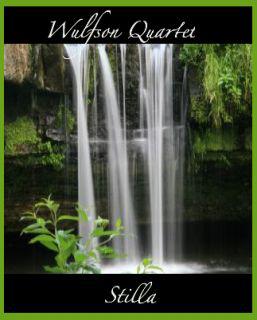 Musik for the senses
This concert program is a collaboration between Wulfson String Quartet and singer Christina Larsson Malmberg, with early music such as Pergolesi´s "Salve Regina", Handels " Lascia chì'o pianga", Roman´s "Vi love dig" from: Then Svenska Messan and J.C. Bach´s "Mein Freund ist mein". These songs are mixed with music from the same time for string quartet, pieces such as Handel´s "Hornpipe", J.S. Bach´s "Jesu Joy of Man´s Desiring", "Minuet" and "Air".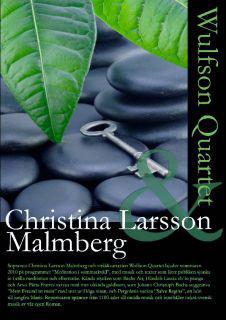 Love conquers all
A concert program with Wulfson String Quartet with singer Malin Lönroth with music that goes stright to the heart. This program include songs known as Swedish love classics - such as Ted Gärdestad´s "För kärlekens skull", Peter LeMarcs "Handens fem fingrar", Jojje Wadenius "Mitt lilla barn", Stefan Nilsson´s "Gabriellas sång" and Sarah Dawn Finers " Kärleksvisan". These songs are mixed with known pieces from international artists like Ray Charles "Hallelujah, I just Love him so", Andrew Lloyd Webber´s "I don´t know how to love him", One hand, One Heart, by Leonard Bernstein, and Nino Rota´s "Romeo & Juliet Love Theme".